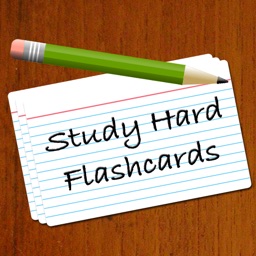 Study Hard Flashcards Lite
iPhone /
Education
Study Hard Flashcards Lite is an intuitive and easy to use educational tool that assists you in memorizing languages, mathematics equations, vocabulary or anything else you can come up with and construct. The best part about it is that it is 100% FREE!

Why carry around a heavy deck of flashcards when you can have thousands upon thousands of flashcards all within your iPhone or iPod Touch.

Using Study Hard Flashcards provides you with immediate access to over 2 million pre-made flashcard sets from Quizlet.com.

Create your flash cards on the fly on your device or make them on Quizlet.com and transfer them into the app.

Learn like you never have before!

Features Include:
- Simple, easy to use interface
- Access to millions of pre-made flashcards on Quizlet - All ready for download!
- Creation is a breeze with online definition look up
- Swipe left or right to flip a flashcard
- Single tap to display progress bar
- Track progress by marking flashcards as "memorized"
- And much more!

Study Hard Flashcards strives to take your feedback and suggestions and improve upon this application to its maximum extent. Please contact us!