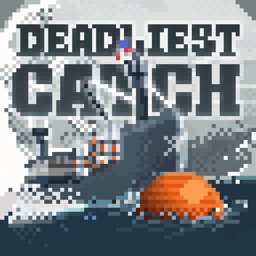 Deadliest Catch: Seas of Fury
iOS Universel /
Jeux
Survive, Thrive and Protect Your Catch During a Deadly Alaskan Crabbing Season

Become a deckhand on your favorite Deadliest Catch ship during a turbulent and harrowing crab season on the Bering Sea.

Navigate more than 20 levels of increasing difficulty across multiple seasons in this two-phase game that asks you to hook buoys and protect your haul of rare Alaskan crab. Earn currency to upgrade your equipment and advance your earning potential so you can dominate the seas and live to tell the tale of your own Deadliest Catch.

• A two-phased gameplay dynamic, starts with players in the role of a deckhand aboard one of six recognizable boats from the show, like the Northwestern and Cornelia Marie.
• Hook a buoy, then navigate each level's haul of crabs, protecting lines and pots from impending obstacles and enemies.
• Earn currency, upgrade equipment and obtain crabbing licenses to maximize your season's haul and become a master of the Bering Sea.
• Play alongside the 11th season of the 13-time Emmy Award-winning series, Deadliest Catch, airing Tuesdays at 9 PM ET/PT on the Discovery Channel.

Deadliest Catch: Seas of Fury™ is a collaboration between Tapinator, Inc., HyperPower Game Group, and Discovery.
For more information, visit www.discovery.com/seasoffury


About Tapinator
Tapinator (Ticker: TAPM) designs, develops, and publishes games on mobile platforms. The Company's portfolio includes over 200 mobile gaming titles that, collectively, have achieved over 200 million downloads. Tapinator is headquartered in New York. For more info, visit Tapinator.com.
Quoi de neuf dans la dernière version ?
-Bug fixes