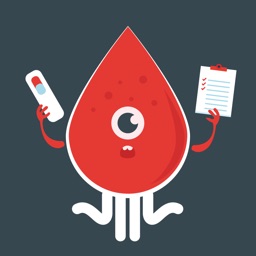 Gratuit diabète moniteur - glucose,insulin
iOS Universel /
Medecine
Diabetes log book app is a free and handy blood sugar, weight tracker.

Keeping track of blood sugar is a good habit to keep healthy, heredity, unbalanced diet, fat, lack of exercise, too much stress etc will lead to diabetic. If blood sugar is found abnormal, quick actions should be done to keep it from getting worse.

Use Diabetes log book free app now to monitor your blood sugar and share your measurements with your doctor, it will help greatly to your physician to diagnose and treat your diabetes, you can also use this app to calculate the units of insulin you need to inject.

Key Features:

⁃ Easily add and edit blood sugar, weight and test date.
⁃ Add note to the readings.
⁃ Track blood sugar, weight by charts
⁃ Create a reminder for measuring Glucose
⁃ Create a reminder to measure your blood sugar
⁃ Export (Email) readings in format of CSV.
⁃ Custom date range of readings to be exported.
⁃ Supports mg/dL and mmoL/L, US and SI.
⁃ Clean and humanized interface.
⁃ Supports transferring data to Health app.
Quoi de neuf dans la dernière version ?
Stability improvement